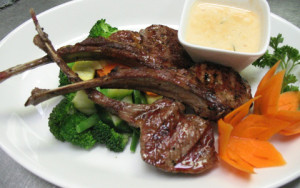 (all served with Jasmine White Rice/Brown Rice)
Lemon Grass Chicken* 
BBQ slice chicken breast marinated in lemon grass pepper sauce, on the
sautéed ofassorted vegetables topped with crispy basil leaf.
Chef's Crispy Duck 
Crispy fried half boneless roasted duck, topped with house special sauce,
steamed assorted veggie
Tamarind Duck 
Half boneless roasted duck topped with sautéed snow peas, ginger, baby
corns, scallion and straw mushroom in delicious home made tamarind
sauce.
Garlic Salmon 
Grilled salmon topped with garlic sauce, come with steamed assorted
veggie.
Delight of Two* 
Sautéed of chicken & shrimp, onion, pineapple, bell peppers water
chestnut, scallion in hot sweet and sour sauce.
Mixed Grilled 
Grilled Salmon, Jumbo Shrimp, Scallop topped with teriyaki sauce and
served with fresh veggie.
Rack of Lamb* 
Grilled rack of lamb, topped with special Panang curry sauce and
steamed veggie.
Scallop Eggplant 
Scallop, Chinese eggplant, onion, basil leaf, sauté in garlic-soybean
sauce.
Chicken Papaya 
Grilled marinated chicken, on the side of Green papaya Salad, served with Sticky Rice.
…………….CLICK HERE TO DOWNLOAD PDF MENU…………….
Please note, due to supply chain shortages and rising market prices, the prices on our menu have increased in order to maintain our operations. We are in the process of updating our prices, the price and availability of certain items may not reflect the correct amount. Prices are subject to change without notice. If you have pricing questions, please inquire by calling our store. We thank you for your continued support and understanding.